藝術家

謝家雯


Hsieh, Jia-Wen

作品

媒材

拉釘、絲襪纖維、T5燈管


nails, stockings, and T5 light tubes

展點

Home Hotel

展點地址

松仁路90號


No.90, Songren Rd.

開放時間

07:00-22:00
簡介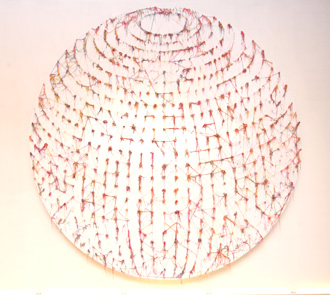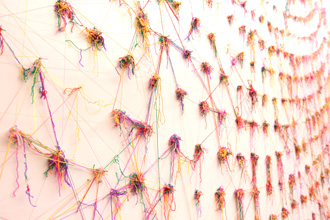 經緯度交錯,標示出人類的空間觀點;「停滯在心中」是一則不斷在身體位移中檢視位置的空間書寫。跳脫了人造纖維材質的絲襪原本具有的彈性、細緻、與觸感,藝術家謝家雯利用其獨特的線性質感,在創作中施以緊繃、斷裂、鬆弛三個不斷循環的步驟,並經由藝術家重複的逼視、遠觀和緊織、鬆弛,進退游移,形構出匠心獨具的世界網絡。
HOME HOTEL是台北市信義區唯一MIT精品旅館,可以用最近的距離感受101的美麗,並擁有絕佳的地理位置與便利的交通網路。周圍緊鄰Taipei 101、各大百貨商圈、大型連鎖影城、信義誠品,以及世貿展場和著名夜店,探索台北,就從這裡出發。
The crisscrossing longitudes and latitudes mark our spatial perception. "Stay in the mind" depicts positional changes amid shifting bodies. The work transcends the flexibility, delicacy, and texture of nylon stockings. Hsieh Jiawen makes use of the unique linear texture of these stockings to repeat the process of tightening, snapping, and loosening. The artist continues to zoom in and out, tighten and loosen, repeatedly moving back and forth to create a unique worldview.
Adopting the plan-as-you-go approach, body and emotion become guiding principles in the creative process. Facing a wall that resembles a huge piece of canvas, the artist uses her body as a tool to create a beautiful and pure world amidst peacefulness, destruction, and tension. It is a world that contains emotional imbalance, and yet is seemingly unperturbed.
HOME HOTEL is the only locally established boutique hotel in Taipei's XinYi District. Residents at the hotel can marvel at the beauty of Taipei 101 close up and enjoy the best geographic location and convenient transportation network available. The hotel is located in the neighborhood of a shopping district, large cinema complexes, Eslite Bookstore XinYi, the World Trade Center and some famous night clubs. Here is indeed the perfect starting point for you to explore Taipei.