藝術家

徐暋盛


Hsu, Min-Sheng

作品

媒材

竹


bamboo

展點

Home Hotel

展點地址

松仁路90號


No.90, Songren Rd.

開放時間

24hr
簡介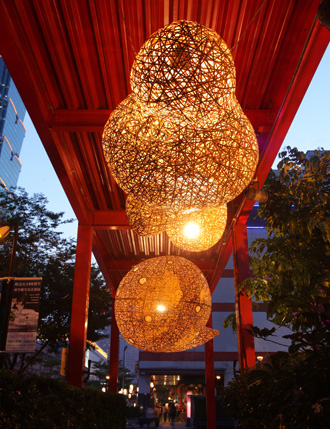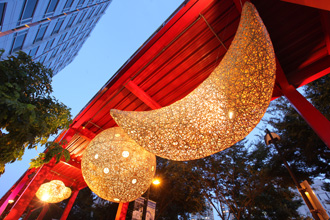 首都台北,美夢之都,圓夢之地,多少異鄉遊子,離鄉背井,奔赴來此,為的就是要在各行各業中發光發熱,出人頭地、圓其夢想,於是日以繼夜的投入生活戰場,追求那永遠追求不完的目標,達到階段目標後,馬上努力朝下一個高階前進,一路朝著金字塔的頂端位階奮力挺進,盼到達登峰造極之地。
作品以太陽、月亮、雲的造型竹編裝置,想表達的是,忙碌的你在追逐功名的過程中,有多久不曾悠閒躺在草地上,仰望天空,細看白雲蒼狗的嬉戲追逐?有多久不曾好好的放鬆自己,與明月對話?不要忘記初衷與內心的光與熱,暫停腳步吧,抬頭看看天空,享受陽光的洗禮,照去所有陰暗的層面,讓微風、白雲、洗滌你忙碌的心靈,在月光下牽起心愛人的手來段午夜漫步。如果光點代表希望,一個光點、是光點,一片光點、是台北!
HOME HOTEL是台北市信義區唯一MIT精品旅館,可以用最近的距離感受101的美麗,並擁有絕佳的地理位置與便利的交通網路。周圍緊鄰各大百貨商圈、大型連鎖影城、信義誠品,以及世貿展場和著名夜店,探索台北,就從這裡出發。
The capital city of Taipei is one of fantasy, a place where dreams come true. Countless men and women have left their homes to come here, hoping for a chance to succeed in their line of work. They have come here in hopes of establishing their names and fulfilling their wildest dreams. These people work around the clock to pursue their endless goals.
The work consists of bamboo-woven objects that resemble the sun, the moon and the stars. The purpose here is for viewers to ask themselves, "When was the last time I relaxed on the grass and admired the shifting clouds in the sky? When was the last time I stopped to examine the moon in the sky?"
Let's not forget the passion in our hearts that drove us to where we are today. Slow down and look up in the sky. Enjoy the sunlight and let it shine on your dark spots. Let the wind and clouds cleanse your busy soul. Take a loved one by the hand, and go on a midnight stroll in the moonlight.
If light represents hope, then although a single speck of light appears insignificant, a sea of specks is Taipei!
HOME HOTEL is the only locally established boutique hotel in Taipei's XinYi District. Residents at the hotel can marvel at the beauty of Taipei 101 up close and enjoy the best geographic location and most convenient transportation network available. The hotel is located in the neighborhood of a shopping district, large cinema complexes, Eslite Bookstore XinYi, the World Trade Center, and some famous nightclubs. Here is indeed the perfect starting point for you to explore Taipei.