藝術家

大卷伸嗣


Shinji Ohmaki




國籍

日本


Japan

作品

媒材

礦物顏料、不織布毯、木桌


mineral pigment, punch carpet, and wood table

展點

SKONO

展點地址

忠孝東路四段181巷40弄2號


No.2, Aly. 40, Ln. 181, Sec. 4, Zhongxiao E.Rd.

開放時間

12:00-22:00
簡介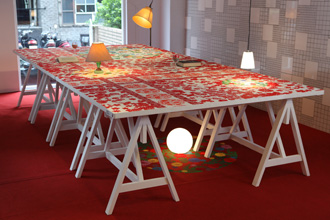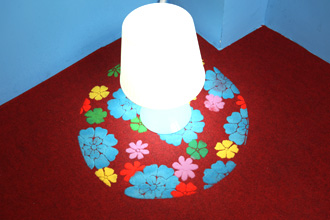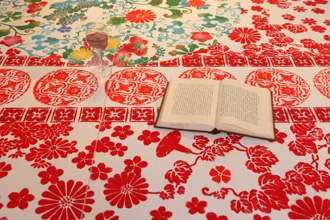 Echoes – Flowers Myth是知名日籍藝術家大卷伸嗣Echoes系列的新作。
空缺,反而提醒了曾經的存在。藝術家細細密密地以顏料繪出一片花海,在斑斕中捕捉物件的雪白剪影,似乎在訴說著什麼故事,那痕跡如此脆弱卻又確鑿,留待觀眾去填補一段段失落的物件,還有屬於它們的歷史。
藝術家使用日本傳統的花卉為圖像,折疊出繁複的時間層次,過去與現在、存在與缺席。花卉交錯間,時間像是捲軸畫作般一一開展,編織旋轉出微小的物件歷史。
以『進化』為理念的SKONO,希望藉『完美的線條、舒適的工學』傳遞更多的愛與愉悅。每一雙SKONO簡約中帶豐富的情感,是跨越性別、年齡、甚至世代的設計。台北店內完全是為消費者的舒適打造,選用適合試穿的PU地、令人感到安心的木製陳列、以及最不易產生干擾的磁磚壁面,並且在有限的坪數中堅持保留展覽空間,強調互動、連結,傳遞SKONO的品牌精神。
Echoes – Flowers Myth is a new attempt of the series "Echoes."
This piece expresses the awareness of the existence of an object by viewing the empty space that the object once occupied.
By drawing flowers on an empty space, Ohmaki captures the story of an object as a blank silhouette or "shade," visualizing the absence of that which should be there.

By confronting the notions of existence and absence, Ohmaki intends for his audience to interpret the blank spaces as irrefutable evidence of the removed object.

The patterns and motifs used in the piece are traditional Japanese flowers. Thus, the artist creates complex layers of time, past and present, in addition to addressing the concept of existence. The flowers on the table interweave the stories of the objects by unfolding time like a picture scroll.
With the concept of "Evolution," SKONO hopes to convey love and jubilance through "Perfect Lines and Comfortable Engineering." The abundant emotions within the simplicity of each pair of SKONO shoes transcend the boundaries of gender, age, and era. The comfortable interior of the Taipei store is created entirely for consumers; it features PU flooring which is suitable for trying on shoes; warm wooden displays and tile walls minimize interferences or hindrances while browsing. Exhibition space is also reserved within the limited area, emphasizing SKONO's spirit of interaction, connection, and conveyance.