藝術家

崔永嬿


YungYen Tsui

作品

小紅帽-1


Little Red Riding Hood-1

小紅帽-2


Little Red Riding Hood-2

Hide And Seek
Take Of

媒材

紙漿、FRP


paper pulp, and FRP

展點

Nailsmap

展點地址

仁愛路四段345巷2弄13號1樓


1F, No.13, Aly. 2, Ln. 345, Sec. 4, Ren Ai Rd.

開放時間

週一至週六11:00-20:00
週日11:00-19:00
簡介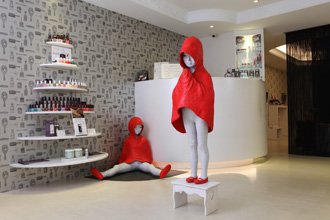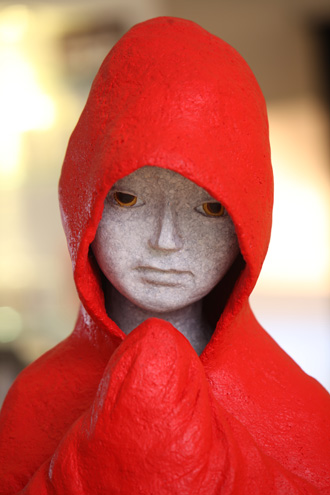 「藝術家崔永嬿以我們熟悉的童話故事「小紅帽」,來討論女性在成長過程中如何自我形塑。在不同的社會氛圍下,女性對於自我展示擁有既期待又恐懼的矛盾。嬌羞的小紅帽在童話般的外衣與意識中長大,開始摸索著展露身體與被觀看之間的界線。
靜謐的巷子裡的Nailsmap是藝術光療指甲及SPA保養的指甲彩繪造型店,以獨樹一格的專業技術吸引許多消費者及藝人的青睞,使用有機芳療頂級SPA保養品與光療健甲膠系統創作造型,以貼心的技術和服務保養顧客,希望帶給大家專業的指甲彩繪藝術及SPA手足保養。
In traditional narratives, female characters often play the role of passive onlookers. In an imbalanced relationship, men consider women to be objects of fantasy, creating a social structure built on imagination. It is against such a backdrop that the artist explores the possible outlet to promote unique femininity.
YungYen Tsui adopts the classic fairytale of Little Red Riding Hood to discuss how women shape themselves as they mature. In different social settings, females are often conflicted between eagerness to and fear of displaying themselves. Underneath the fairytale-like hood, we see that shy Little Red Riding Hood is eager to grow up. She starts to walk the fine the line between self-exposure and the thrill of being watched.
Situated in a quiet alley, Nailsmap is a nail salon that offers artistic Calgel manicure and spa treatment, enjoyed by general customers and celebrities alike. It also boasts organic fragrance and high-tech equipments for creative nail styles. With care and refined service, Nailsmap brings you professional nail art and spa.