藝術家

Leonid Tishkov

國籍

俄羅斯


Russia

作品

媒材

壓克力、LED燈


plastic and LED lights

展點

富邦金融中心戶外花園


Yard, Fubon Financial Center

展點地址

仁愛路四段169號


No.169, Sec. 4, Ren Ai Rd.

開放時間

24hr (燈亮時間:18:30-00:00)
簡介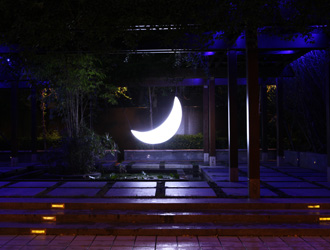 有一天晚上,月亮開始和一個男人共處一室。
剛開始,月亮只願意倚靠在男人的屋頂上,後來男人小心翼翼地背著月亮,讓她來到溫暖的室內,甚至躺在她的身邊,和她蓋同一條毯子入眠。
男人帶著濃情密意照顧月亮聽起來像是一個浪漫的故事,或是一種幻覺。但是對藝術家而言,這種浪漫的錯覺背後隱喻的是他對俄羅斯開放後轉向資本主義、崇尚金錢的幻滅;這種帶有超現實的創作風格正是堤胥可夫作品中最具代表性的所在。
Tishkov1953年生於俄羅斯烏拉山區的小村,活躍於莫斯科的觀念藝術圈,近十年作品主要以裝置、攝影與錄像為主。
富邦金融中心戶外花園,曾是知名作家王文華筆下台北最浪漫的所在,潔淨的花池,有魚與烏龜居於其間,2010年重新整修因颱風造成的花架,是東區上班族約會或碰面的熱門地點。
"Private Moon" is a visual poem portraying a moon that has descended from the sky to live peacefully with a man (perhaps Tishkov himself).
At times, the moon rests on the roof of a building in Moscow; other times, the moon is carried on the man's back, or sleeping beside the man with a blanket. The idea of treating the moon as a pet (or a lover) is a humorous fantasy, and could be a joke, a romantic reverie, or perhaps an illusion. However, there might also be a reality that gives the viewer no choice but to dream about another world. It could be the other side of the collapse of the socialist state, the fierce competition of capitalism, the disillusionment with the new Russia where the worship of money prevails. The romantic longing of another realm and the free reverie of a surrealist clearly characterize the works of Tishkov.
Fantasy always leads people to wonder in the sense of amazement as well as wonder in the sense of feeling strange.
Tishkov was born in 1953 in a small village in the Ural Mountains in Russia. He is active among the Moscow Conceptual Circle. His works from the past decade mainly focus on installation, photography and video-taping.
Now, the Moon lies quietly in a garden in Taipei, waiting to be found.
The outdoor garden of Fubon Financial Center is the most romantic venue in Taipei, according to renowned writer Wang Wen-hua. It features a clean floral pond with fish and turtles living inside; the floral patio renovated after a typhoon in 2010 is a popular location for dates or gatherings by businesspersons in the East District.