藝術家

王福瑞


Fujui Wang




作品

媒材

聲音裝置(電腦硬碟、客製電子裝置、壓克力)


computer hard drives, electric sensor, and acrylic

展點

PHANTACi

展點地址

忠孝東路四段181巷35弄27號1樓


1F, No.27, Aly. 35, Ln. 181, Sec. 4, Zhongxiao E. Rd.

開放時間

週二至週六14:00-23:00
週日、週一14:00-22:00
簡介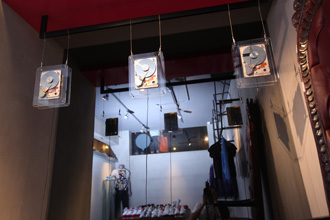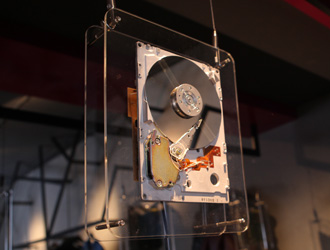 「電腦資料已成為人類生活不可或缺的一部份,不論任何原因使得硬碟資料遭受破壞,雖未造成肉體的傷害,卻使我們產生失去記憶、或腦部喪失功能般的創傷。」
基於人對電腦的特殊情感,以及對電腦硬碟記憶破壞的失落感,《聲碟》疏發著對逝去記憶的捕捉與遺憾。這件作品是以麥克風與電腦硬碟音圈隨機不斷地中斷、並發出不同音量產生迴授的聲音裝置。
《聲碟》是無數以聲音大小為層次的點狀聲音所組成,它像是我們數位時代高速大量資訊的流動,卻又以0與1簡單的形式所構成;大量隨機的點狀聲音,發出對於流失的記憶的嗚咽!
PHANTACi是由喜歡潮流及時尚的周杰倫與好友Ric打造而成的流行城堡,希望提供顧客天馬行空的發想與創意,它更是一個風格文化的創造傳播點,融合街頭、潮流、時尚、運動專業各角度不同訴求,以個人風格的興起一種時尚態度的帶動。
"Computer data have become an integral part of our lives. For whatever reason, if the hardware is damaged, albeit there is no actual harm to our bodies, we experience some sort of trauma akin to memory loss or loss of brain function."
Inspired by humanity's computer complex, and a feeling of loss for broken hardware, Sound Disc expresses our attempts to capture lost memories and regrets. The work is created using a feedback-generating device equipped with microphones and computer voice coils to repeat playback and pauses.
Sound Disc comprises of countless sound dots distinguished by its different volumes. It symbolizes the complex information flow of the digital era, which, ironically, is based on the simple binary system of zeroes and ones. The random sound dots correspond with an image, which when viewed from afar appears to be static. Yet each image contains within itself innumerable dots of sound, dashing and flowing back and forth.
PHANTACi is a trendy castle launched by Jay Chou and his friend Ric, both fashion lovers. The shop not only aims to spark fantasies and creativity in customers, it also serves as a creative outlet for styles and culture, blending a mixture of fashion statements such as street wear, trendy wear, fashion wear, and professional sports wear: all of which give rise to individual expression.