藝術家

松枝悠希


YUKI MATSUEDA

國籍

日本


Japan

作品

媒材

PET塑膠、壓克力、LED燈


PET, acrylic, and LED

展點

CAMPER

展點地址

安和路一段105號


No.105, Sec. 1, Anhe Rd.

開放時間

11:30-21:30
簡介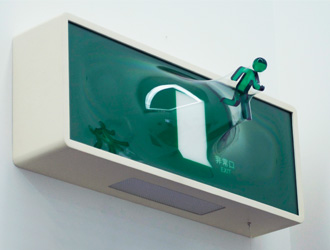 松枝悠希將平面圖案3D立體化呈現,表達出一種「不可能發生的狀態」。
藝術家的父母在日本經營印刷公司,從小松枝悠希對印刷儀器和立體造型物的興趣就比平面形式濃厚許多,但不可避免,他記憶中對於顏色與審美自然深受父母影響,藝術家也希望能透過作品克服印刷行業的限制,呈現出一種平面無法觸及的趣味。
松枝悠希的作品輕巧地顛覆我們對日常生活物件的看法,從平面到立體的轉換,把記憶中褪色的物件召喚出來,讓觀眾嘴角忍不住揚起微笑。
Life-lover Welcome! 這是CAMPER對生活的構想、對鞋子設計以及創意發揮的主張,歡迎所有對生活充滿熱情的朋友們以一雙獨特而舒適的鞋子表達對生活態度。CAMPER安和旗艦店為品牌指定的行為藝術店,用藝術、表演讓商店充滿生命力、創造全新購物體驗。
One of the themes of the Matsueda work is to shape an "impossible moment." To illustrate this theme, his works consist of three-dimensional solids protruding from two-dimensional planes.
Matsueda's parents run a printing company in Japan, but his interest has always been in the solidity of three dimensions, rather than the flatness of two-dimensional prints. His recent works depict subjects from two-dimensional planes protruding from and encompassing three-dimensional spaces. The author seeks to overcome the limitations of the planar objects of the printing industry.
Yuki Matsueda's work deftly overturns our existing knowledge about everyday objects by expanding two-dimensional objects into three dimensions. His work refreshes our memories of objects that have long been forgotten or overlooked. Such ingenious work ignites a smile in every one who sees it.
Life-lover Welcome! This slogan embodies CAMPER's outlook on life, shoe design, and creativity. The brand encourages all shoe lovers to express their attitude towards life with a pair of unique and comfortable footwear. The CAMPER flagship store on An-He Road uses arts and performance to vitalize the venue, thus creating a whole new shopping experience.