藝術家

阿咧先生


Mr. A-Lei

作品

媒材

陶板、紙張、陶偶


pottery and paper

展點

誠品信義店 ART STUDIO


Eslite Xinyi Bookstore ART STUDIO

展點地址

松高路11號3樓


3F, No.11, Songgao Rd.

開放時間

週日至週四10:00-24:00
週五、週六10:00-02:00
簡介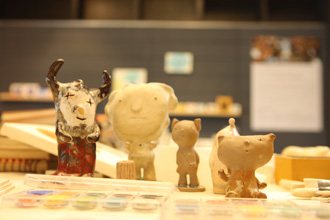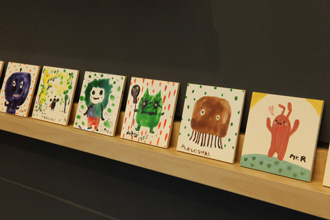 「在我的腦袋裡住著無數的怪獸和極冷無比的冷笑話,偶有美少女的出現。這些原本只能表現於紙上的角色,現在透過陶土有了新生命,他們變的更具體、更真實,在人類的世界看見這群怪獸的出現,讓我感到無比的興奮和喜悅。」

叩!叩!叩!「歡迎,是怪獸卜卜和多拉桑嗎?歡迎來到東區粉樂町。」
叩!叩!叩!「您好,皮諾得先生,行李請讓我來吧。」
打開了的想像之門,一扇又一扇,往來真實和想像之間,快樂無比。
誠品信義店創立於2006年,為一個結合書店、商場、表演空間、畫廊、美食等複合式的生活空間。書店依不同類型分為藝術書店、日文書店、風格文具館等,亦常有各種表演,滿足各種族群的需求。
信義誠品三樓角落Art Studio,阿咧先生將會在此暫居,來敲敲他的桌,把想像力由平面便立體。
"In my head resides countless monsters and unjokes, with some occasional appearance of pretty girls. Things that could only be rendered on paper in the past, now take on a new life in the form of clay. They have become more tangible and real. The presence of this group of monsters in a world populated by humans gives me immense excitement and pleasure."
"In my head resides countless monsters and unjokes, with some occasional appearance of pretty girls. Things that could only be rendered on paper in the past, now take on a new life in the form of clay. They have become more tangible and real. The presence of this group of monsters in a world populated by humans gives me immense excitement and pleasure."
Knock. Knock. Knock.
"Welcome. Isn't this Monster Bu-bu and Dora-san? Welcome to Very Fun Park at Taipei East District."
Knock. Knock. Knock.
"Hello, Mr. Pinode. Allow me to take your baggage."
Doors of imagination open up the channel between reality and imagination. Such immense pleasure!
With a shy smile and the bashful look in his eyes, Mr. A-Lei is full of creativity. There are always strange characters running through his head. There's no way to suppress his passion and energy once he starts working.
Opened in 2006, the Eslite Xinyi Bookstore is a hybrid venue for bookstore, shopping, performance arts, gallery and gourmet. The bookstore is divided into sections devoted artistic books, Japanese books and stylish stationery respectively. It also stages a diverse range of performance that caters to the needs of various different customers.
When Mr. A-Lei arrives at the Art Studio inside Eslite XinYi, his imaginative characters quietly turns the world of books into something mischievous!