藝術家

Liesbet Bussche

國籍

比利時


Belgium

作品

媒材

塑膠燈罩、電線


plastic globes and wire

展點

松智公園 (新舞台前方)


Songzhi Park

展點地址

松智路 (新舞台前方)


Songzhi Rd.

開放時間

24hr (燈亮時間:18:45-00:00)
簡介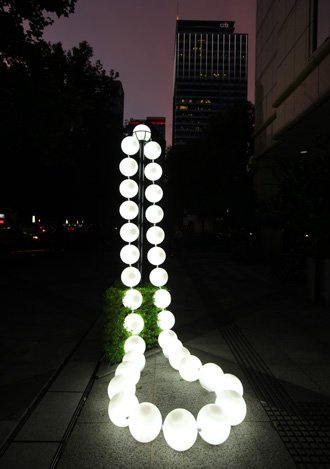 「Urban Jewelry為

與富邦藝術基金會共同支持,精采呈現」
為什麼城市風景不能多點趣味?在藝術家Liesbet Bussche的巧思下,街道上的路標、圍欄、分隔物,都能化身為優雅的珠寶展示,總是在城市一角默默佇立的路燈、街擋,也因此輕盈愉悅了起來。
Liesbet Bussche出生於安特衛普,目前居於阿姆斯特丹進行創作。她喜愛珠寶,也擁抱城市的活力,何不就讓珠寶妝點人聲熙攘的街景?在臺北街頭,一盞平凡的街燈對她她來說如獲至寶:經過她的創意,白天這裡像是大方搬移至街頭的珠寶店櫥窗,而傍晚街燈點亮的時刻,飽滿的珍珠項鍊隨之閃閃發亮。
樹蔭下聆聽鳥鳴、空氣中還飄散著花香咖啡香,在寸土寸金的信義計畫區,似乎是不可能的享受。中國信託基於回饋社會的理念,自2006年起認養及維護「松智公園」,配合四季及節慶展現不同的設計景觀,不時還有小鳥與蝴蝶拜訪穿梭,是水泥叢林裡最美麗的「口袋公園」,此次中國信託更全力支持藝術品進駐,邀您放慢腳步,一同品味這恬適美好的幸福角落。
Why not make the urban sceneries more interesting? With Liesbet Bussche's ingenuity, the street signs, fences and pedestrian island have been transformed into elegant jewelry exhibition. Fixed objects quietly carrying out their duty in the corner of a city have all of a sudden become lithe and pleasant.
Born in Antwerp, Liesbet Bussche now resides in and carries out her creative career in Amsterdam. She adores jewelry and embraces the energy of the city. Why not let jewelry decorate the bustling street? For Bussche, a common-looking street lamp in is like a treasure among the streets of Taipei. Her ingenuity has reinvented the streets. During the day, the locale is transformed into the shop windows of a jewelry boutique relocated to the street, while in the evening when the street lights are lit, the place sparkles like a string of sumptuous pearl necklaces.
Sitting under a tree to listen to the sound of birds. Taking in the floral fragrance and coffee aroma. Such seems an impossible experience in the expensive XinYi District, where every piece of land must be put to its most profitable use. Since 2006, based on the ideal of social contribution, Chinatrust Commercial Bank has been sponsoring the maintenance of Songzhi Park, dressing it according to the seasons and festivals. Visiting the Park, one will be amazed by the occasional bird chirps and butterflies presence. It is the most beautiful "Pocket Garden" in the concrete jungle. This time around, Chinatrust has gone all out to invite many artists to showcase their works in the Park, beckoning visitors to slow down and enjoy this corner of happiness.