藝術家

劉丁讚


Liu, Ding-Zan




作品

鬥雞


Roosters

老鷹


The Two Eagles

媒材

鋼鐵


iron and steel

展點

KOOLOOK

展點地址

敦化南路一段177巷37號


No.37, Ln. 177, Sec. 1, Dunhua S. Rd.

開放時間

14:00-22:00
簡介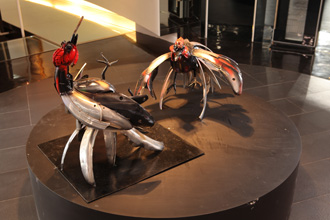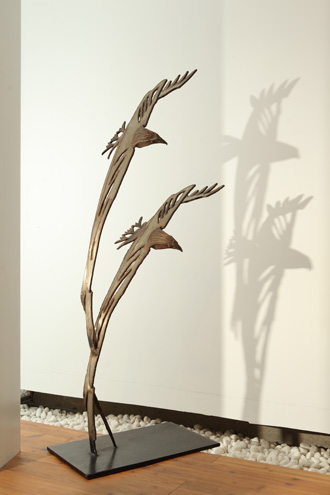 老鷹張開有力的翅膀,盤旋在高空,銳利的眼睛注視獵物?還是在看著身下的景色?
鬥雞張牙舞爪地撲向對方,劍拔弩張的模樣,彷彿能聽到咯咯鳴聲滿場飛揚。
劉丁讚1959年生於高雄,小學五年級就在拆船廠敲鐵鏽,鋼鐵被扭曲熔化成不同的形狀、變化多端的可能讓他樂在其中。國中畢業後任職都與鋼鐵有關,對於材質深刻的認識與掌握,使他特別能從冰冷的材料中創造出獨特的美感與生命力,善用工業高雄富有的鋼鐵素材,也讓藝術品注入了在地特色。
KOOLOOK由飾品造型設計師LOOK LU成立,LOOK曾於日本學習造型和飾品設計,學成歸國後自創品牌『KOOLOOK』,更獨家代理引進全球排名前十大銀飾品牌,相信飾品不僅是點綴,更希望透過銀飾傳達文化以及美感深耕的信念。
The sight of the artwork awed us with its vitality.
The eagle spreads its powerful wings, hovering in the air. Its eagle eyes gazing at its prey, or just viewing the scenery beneath?
The two roosters fiercely attack each other. The intensity of their fight extended itself to the vivid rendering of the feathers. You could actually feel the gobbling sounds that fill the scene.
Liu Ding-Zan was born in Kaohisung in 1959. In fifth grade in elementary school, he started working on breaking rust in the shipyard and was mesmerized by the melting and twisting of the iron into different forms and shapes. Ever since he finished middle school, Liu has been working in steel-related businesses and has thus acquired knowledge and understanding fort material, which give him an advantage in creating the unique aesthetic and vitality out of the cold piece of material. He makes use of the abundant material in the industrial city Kaohsiung and lends a local characteristic to his work.
KOOLOOK is founded by accessory designer Look Lu who studied styling and accessory design in Japan, after which he returned to Taiwan to found KOOLOOK and exclusively imported the world's top-ten silver accessories. Lu believes silver accessories are not only for decorative purposes, but also proved a means to convey cultural beliefs.