藝術家

張騰遠


Chang, Teng-Yuan

作品

望穿術-雨天


Edge of the Sight-Rain

誰的風景


Landscape of Whom's

媒材

動畫裝置(動畫、數位相框)


rainboots, animation installation with digital photo frames

展點

HUNTER BOOTS

展點地址

光復南路240巷9號


No.9, Ln. 240, Guangfu S. Rd.

開放時間

12:00-22:00
簡介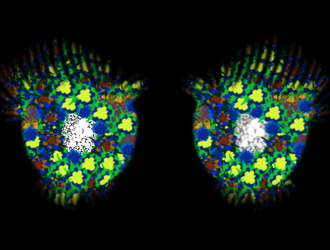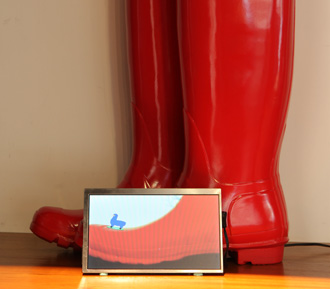 「望穿術,取自望穿秋水一詞,在這裡所指的,是對某物件長時間凝視之後所產生的幻覺。」
在《望穿術-雨天》中,張騰遠將對現成物(雨鞋)的想像,顯影在重疊於物件之前的螢幕中,企圖以螢幕中播放的影像,連結觀眾的想像線路。
另一件作品《誰的風景》裡,作者將自身對風景的想像放入眼睛形狀的螢幕之中,觀眾透過美少女被挖空的雙眼,不斷地接收裝置所給予的訊息;直到觀看者的眼目被完全的佔據。
坐落於東區光復南路巷口的Hunter Boots概念店,為世界首家概念店。概念店的設計沿用logo的基本三原色—黑、白、紅,呈現精品的質感與氣勢;入口處的花灑裝置,期待把"Joy in the Rain"的主題扣合到商品與整體當中。
Inspired by the Chinese idiom "Wang chuan ciu shuei", or earnest expectation, "Edge of the Sight" refers to the illusion formed after a long and intense gaze.
In "Edge of the Sight-Rain", Chang projects his imagination of existing ready-mades (rain boots), onto a screen mounted on a pile of objects to spark viewers' imagination through images shown on the screen.
For another work, "Landscape of Whoms" the artist projects his imagination of a landscape onto a pair of eye-like screens. The eye sockets of a beautiful manga maiden now serve as a viewing device that continues to feed information to the viewer. Gradually, the landscape shown on the eye-like screens becomes the owner of the eyes. Viewers lose themselves in the landscape and their minds begin to float out of their physical beings.
Situated at one of the alley entrances on Kuang Fu S. Road in Taipei East District, the Hunter Boots concept store is the first of its kind. Its interior consists of the colors found on its logo, namely black, white, and red, representing the texture and vigor of its find products. The sprinkler at the front entrance instills the theme "Joy in the Rain" into our everyday life.