藝術家

張恩慈


Chang , En-Tzu

作品

今天,充滿力量的一天


Today, I feel energetic

媒材

軟性布料、彩色毛線、繡線、棉花


Fabric, colored yarn, embroidery thread, and cotton

展點

肯夢AVEDA誠品信義店


Aveda Eslite Xinyi

展點地址

松高路11號4樓


4F, No.11, Songgao Rd.

開放時間

11:00-22:00
簡介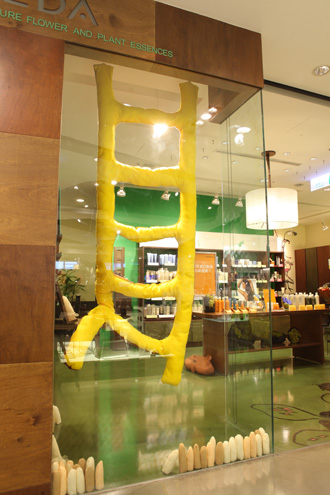 「任何事物都有神秘的靈魂,它常常沉默不語,很少開口說話。」
張恩慈以經典童話故事的公主形象為主軸,透過縫繡遺留下的線條,作品流露出慾望的神情與不尋常的姿態。透過文本的語彙象徵,重重疊合人性本質的衝突與矛盾,揭露社會建構下的人格面具。藝術家思考著關於「有魔力的物件」和事物的「神秘靈魂」。於是,她裝置著巨型的軟性梯子,象徵著能通往未知的積極力量,並在偌大的鏡面上,疊放著一如魔鏡般的作品,代表在古老的童話中,具有超越時空、預知未來及反映真實內在的魔力。透過超現實的軟性雕塑與魔鏡的轉化象徵,提供觀者多重的視覺與心理感受。
充滿香氛的AVEDA飽和的色彩與花圖騰,是以巧克力工廠為發想的複合空間,也是肯夢在完成種種夢想的裡想空間,二手古董飾品的拍賣角落,開放的試用台,可以直接改頭換面的體驗。
"Inside everything lies a mysterious soul that is usually silent and seldom utters a word."
Chang En-Tzu's embroidered works center on images of fairytale princesses with lascivious expressions and unusual postures. She borrows literary symbols from these stories, and layers her work with the conflict and contradiction of human nature, unveiling the hollow mask that is the product of social construction.
In AVEDA's aromatic setting, the artist ponders "the magical objects" and "the mysterious souls" of fairytales. She installs a giant soft ladder, representing the strength that propels one towards the unknown. On a massive mirror lays something akin to a magic mirror; it represents the magic found in fairy tales: the power to transcend space and time, to predict the future and reflect the inner world. Through surreal soft sculpture and the transformational symbol of the mirror, viewers are treated to a visual and psychological experience.
Fairytale-like magic permeates the floral patterns. The shop floor at AVEDA is green and sprinkled with chocolate-colored flowers. Their petals are dotted with rich purple to add a lush feel to the interior. The floral theme of the interior also echoes the brand identity of natural botany.