藝術家

盧嬿宇


Lu,Yen-Yu

作品

知覺解離體驗III


Experiencing the Separation of Consciousness III

與反面共生


Contrary of Symbiosis

半身人


Half-body Person

眼樹


Eye Tree

無題(手)


Untitled ( Hand)

媒材

瓷土、金屬、白陶、釉、壓克力


porcelain clay, metal, white pottery clay, glaze, and acrylic

展點

UNDERCOVER忠孝門市 & TAIPEI UC Noodle Bar

展點地址

忠孝東路四段181巷40號1樓 1F


No.40, Ln. 181, Sec. 4, Zhongxiao E. Rd.

開放時間

11:30-21:30
簡介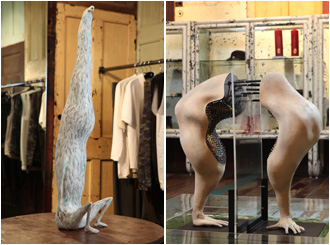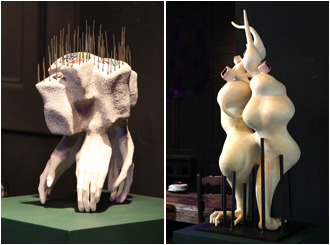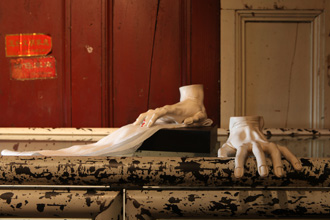 「我關注的對象是人,從自身的視野出發,一面剖析自我的真實面貌,另一方面客觀對照外界與自我的連結、影響、碰撞。」
盧嬿宇透過作品表達擺盪在突破與維持自我形體之間的心理狀態。人的自覺中,理性思考常無法對應複雜人性,這其中的矛盾與衝突將內在與行為分割為種種對立。
而改變是無可抗拒的變異。無論是讓個體更接近自我或是反向轉變成批判的角色,改變隨時都在進行。
創作對盧嬿宇而言是以視覺形象構成記錄,藉由捕捉每個階段,盧嬿宇自省過程中記錄成具體的形象。
日本當代前衛時裝品牌Undercover的大膽創意,在東區後巷內創造出了一個交錯視覺與味覺慾望的新生活空間,拼接200片老巷弄門板的創意空間設計裡,結合高橋盾日本原宿風格的訂製時裝、與台灣鼎泰豐的傳統麵食、頂級赤蘭有機茶與知名夜店Bar Code的Fruity Blend,成為東區引領潮流的知名複合式餐飲服裝店。
"My work addresses people. While I provide a subjective analysis of the true side of me, I also reflect objectively on how the outside world connects with, influences, collides with, and twists my inner self.
Through her work, Lu Yen-Yu depicts a psychological state that wavers between the moment of progressive breakthrough and the maintaining of the status quo. Without consciousness, our rational thinking fails to keep up with the complexities of human nature, the result of which is self-contradiction and internal conflict, and that in turn becomes many mutually opposing states.
The artist states that change is inevitable. Be it the ideal state in which we are granted self-determination, or just the opposite, in which we become the object of self-criticism, change is an ongoing process.
Lu sees the creative process as one comprised of visual images. By capturing every stage of it, she projects a solid image that depicts self-reflection.
Undercover is an avant-garde clothing brand in Japan. Its creativity has sprung a new living space in an alley in the Taipei East Area that stimulates both vision and palate. In this creative space connecting two hundred door planks, Undercover is a blend of fashion and dining, with Jun Takahashi's "urahara" haute couture, the traditional noodles of DinTaiFung, premium Taiwanese organic tea and the Fruity Blend of popular local nightclub BarCode. With such a fine combination of fashion and dining, Undercover has made its name as the renowned hybrid store in the area.
※本作品由德鴻畫廊提供