藝術家

岩崎崇


Takashi Iwasaki

國籍

日本


Japan

作品

Summit
Transportation Methods
Rush Hour
P for Pink
Picnic in the Sky
House
Even in the Rain
Very Fun Park

媒材

紙張拼貼


collage on paper

展點

Pinknic 野餐吧

展點地址

忠孝東路四段216巷27弄9號1樓


1F, No.9, Aly. 27, Ln. 216, Sec. 4, Zhongxiao E. Rd.

開放時間

07:30-21:30
簡介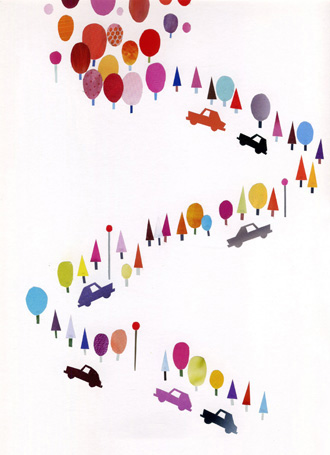 不同顏色的機車一起前行,卻出現兔子和鱷魚的身影?還有繽紛的氣球牽引著機車龍頭,輕巧地往天空飄去;交通工具排列成居所的形狀,深藍的窗戶、黃色的門扉,像是家在呼喚,忙碌了一天之後的歸心。
其實藝術家岩崎崇在今年初夏來到台灣體驗了新奇好玩的旅程,「我的作品就是我在台灣旅行期間的圖畫日記,畫面裡的一切都是我在這個國家遇見的事物,忙碌的街道、蒸騰的熱氣和雨水、還有善良的人們…我希望觀者可以用他們自己的方式去感受我作品中的雀躍與美好。」
Pinknic店內的輕鬆,一如野餐般樂趣。溫馨怡人的空間一大早便朝氣十足地開放,讓客人可以不分時段地享受好食好物,這裡有自製歐式Bruch套餐、手工醬料、開放式三明治及法國瑪黑茶、還有收藏的歐美古董餐具,野餐的愜意其實很簡單。
Rabbit and crocodiles run along with a colorful fleet of scooters? A bunch of brightly colored balloons effortlessly lifts a scooter into the sky. Vehicles line up to form the shape of a roof, whose deep blue window and yellow door represent the warmth of a beckoning home, as well as our eagerness for home after a day's hard work.
Earlier this summer, Iwasaki spent a month in Taiwan and had a wonderful and exciting time. "My work acts as my travel diary in a visual format.…crowded busy streets, heat, rain, spending time with good people like friends and family, experiencing livelihood, energy, and excitement in Taiwan. The things you see in my work are abstract and symbolic forms of things I encountered with, thought about, and felt on a specific day or during a period of time. I hope viewers can feel my excitement and experience through my work – in their own personal ways."
During his stay, Iwasaki visited Pinkinc Café and experienced its relaxing ambience of picnic pleasure amidst the boisterous Taipei East Area. The warm and pleasant venue opens early in the morning and allows customers to enjoy a nice meal at anytime of the day. The restaurant serves homemade continental brunch in set menu, coupled with homemade sauces, open sandwiches and tea from Le Marais, France. Also provided are some antique European and American cutlery, just to show how easy it can be to enjoy a nice picnic.