藝術家

陳松志


Chen, Sung-Chih

作品

媒材

不鏽鋼、聚苯乙烯


stainless steel, and styrofoam

展點

In the playground Atelier 21619

展點地址

忠孝東路四段216巷19弄19號1樓


No.19, Aly. 19, Ln. 216, Sec. 4, Zhongxiao E. Rd.

開放時間

12:00-22:00
簡介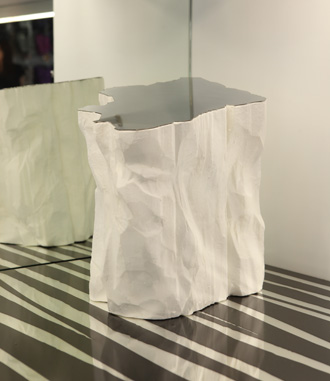 「極地,可以是極美之地、極繁之地,也可能是極荒、極簡之地;或許我們的心中,各藏有著一塊極地。」
《極地》系列作品以鏡面不鏽鋼與類傳統雕塑的粗胚切面作為一種對照,透過個人的想像重新建構地貌的輪廓,作品中以堅實曲折的輪廓形狀,對應著以機械成型的不鏽鋼橫切面,藉由外界光影的射入顯現出流動幻變的景緻,以二元對立的方式開拓出當代雕塑中物質增減以及虛實結構的概念發想。
作品《極地》將現實生活中的驚鴻一瞥化為極地,試著以本能的心跳將這塊對於環境散失的情意版圖拼湊起來。
隱身於忠孝東路的巷弄間,「Atelier 21619」提供工匠師傅的精湛手藝還有耗時、費工的專業設計,使每一雙鞋款都如同是位客人量身打造的藝術品,代表著工匠的極致藝術,與專屬幸福,量身訂製的獨一。
"The polar region can be described as a place of extreme beauty, a place of extreme complexity, and also a place of extreme neglect and simplicity. Perhaps there is a 'Polar' in all of us".
The "Polar Region" series juxtaposes smooth, mirror-like stainless steel with the rough textures of sculpted clay to rebuild the contours of a landscape based on the artist's imagination. The sturdy carvings of the sculpture contrast the mechanical cross-sections of the stainless steel shafts. The natural play of light and shadow on the piece creates a soft picture that flows and shifts. The artist employs dualism to depict the ebb and flow of material goods, along with the hollow and concrete structure in contemporary sculpture.
"Polar Region" turns a glimpse of real life into a scene in the earth's poles. It pieces together the scattered emotions of a lost environment using only some intuitive heartbeat.
Hidden in the alleys of Chung Hsiao East Road, "Atelier 21619" prides itself on its footwear, customized to each client and made with meticulous craftsmanship and a long and complex design process. Every pair of shoes is an aesthetic masterpiece that represents the craftsmen's superior artistry and a personalized sense of happiness.
※本作品由就在藝術空間提供