藝術家

長尾惠那


Ena Nagao




國籍

日本


Japan

作品

As you like it
I want to give you the chickweed…

媒材

樟木、岩彩


camphor wood and mineral pigment

展點

Asana

展點地址

忠孝東路四段181巷35弄7號


No.7, Aly. 35, Ln. 181, Sec. 4, Zhongxiao E. Rd.

開放時間

11:00-21:30
簡介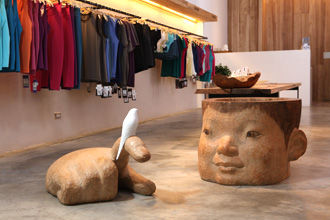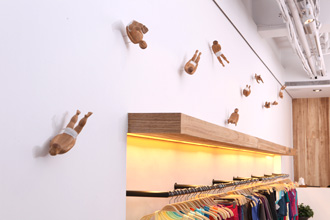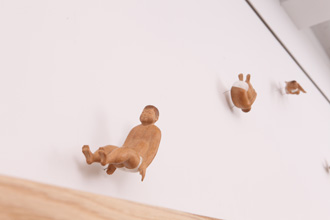 「朋友生孩子的經驗、超市更換了季節的蔬菜、在祖母家從親戚那聽來的以前的事,從淡淡且重複的日常中,找出生活價值與憧憬。」
凝視作品可以感受到長尾惠那以認真嚴肅的心情看待著生活中的事物,圓潤豐實的線條及令人溫暖安心的色彩,讓表情和身體的姿態以最單純卻動人的樣貌呈現。
在這個以瑜珈練習者需求為出發點的空間裡,白色呈現了純粹:木製人偶穿著四腳褲、在潔淨的壁面舒服地伸展著,表情認真的男孩,他彎曲的手指讓小鳥棲息,順勢的讓安靜的、不驚擾的,隨著調息伸展、放鬆……….
Asana為台灣MIT專業的瑜珈服設計品牌,採用機能性布料,風格簡約並強調立體剪裁。Asana是印度文的體位法,蓮花的logo圖像象徵從瑜珈孕育而生;瑜珈不只是在瑜珈墊上的運動,透過瑜珈練習放慢生活步調,享受慢活人生。
From friends' childbirths, to the vegetables on sale in the supermarket, to the stories of yesteryear told by relatives at grandmother's house, one identifies the reverence and yearning for living value, from the most ordinary and repeated events.
Looking at the work, one can sense Nagao's solemn take on everyday objects. The use of round and solid lines, along with warm colors, allows emotions to be presented in their simplest and purest forms.
In a space devoted to yoga learners, white resembles purity, as demonstrated by the wooden puppets dressed in same-color boxers sprawling comfortably on the floor. For another piece of work, Nagao has sculpted a solemn-looking boy, who curls his ten fingers to pass along a token. Perhaps the token is the artist's message to the viewers, one that holds the secret of the world.
Asana is a Taiwanese yoga apparel brand that embodies MIT (Made in Taiwan) products. All of its clothing uses specialty fabrics enhanced with 3D cuts and styled in a simplistic way. "Asana" is the Indian Sanskrit word for "method of posture." A lotus logo symbolizes rebirth via yoga. It should be noted that yoga practice does not just happen on a yoga mat. With discipline and perseverance, you will learn to slow down and enjoy a tranquil life.