藝術家

岩崎崇


Takashi Iwasaki

國籍

日本


Japan

作品

媒材

數位輸出


digital print-out

展點

台北富邦銀行安和分行ATM


Taipei Fubon Bank Anhe Branch ATM

展點地址

仁愛路四段169號


No.169, Sec. 4, Ren Ai Rd.

開放時間

24hr
簡介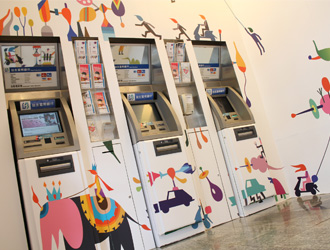 岩崎崇表示:「我的作品是我以視覺形式記錄的日記,畫面所看到的一切都是我在台灣的日常生活中遇見的事。我將感覺到的東西具體化的呈現,希望觀者可以感受到我對台灣的熱情。」
仔細一看,機車沿著提款機的上方往前行,海龜、大象、長了四條腿的汽車,以他們自己的步調往前移動;進入這樣的空間,一種遊子的觀感與描述,看看我們的生活給了別人怎樣的激撞與創意。
位於東區仁愛路與216巷口的台北富邦銀行安和分行ATM便利空間,是創造另類空間的展出地點,連續三年都以大型輸出方式改變了空間的氛圍,讓民眾在領錢會處理簡易帳務的同時,也可以與藝術相見!
Entering the ATM room at Fubon Financial's An-He Branch, we have arrived at an imaginary space that is colorful, lively, and full of Taiwan metropolitan scenes.
"My work is a personal visual diary. Everything in the picture represents an abstract symbol of the things I see on a daily basis while living in Taiwan. I have put everything I've seen and experienced into tangible objects. Hopefully, viewers will notice my passion for Taiwan and arrive at their own interpretation," Iwasaki says.
Look closely, you will notice how the scooter moves upwards along the ATM; a sea turtles, elephants, and cars with four legs are also moving forward at different paces. Does a space like this convey the artist's fondness for Taiwan?
The ATM convenience space of Taipei Fubon Commercial Bank, Anhe Branch, located at the intersection of Renai Road and Lane 216 in the East District, is an exhibition venue that creates an alternative space. The atmosphere of the space has been transformed for three successive years through the application of large printings, so people may also encounter art while withdrawing money or handling simple financial affairs.