藝術家

任大賢


Jen,Ta-Hsien




作品

媒材

不鏽鋼


stainless steel

展點

rarehouse

展點地址

市民大道四段138-5號


No.138-5, Sec. 4, Civic Blvd.

開放時間

14:00-22:30
簡介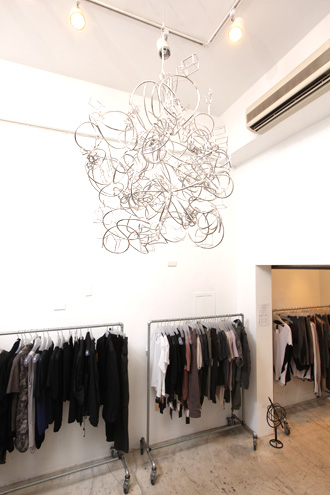 任大賢擅長以線性的不鏽鋼雕塑來表現虛與實的空間意象,懸掛的球體造型象徵城市的希望與活力,細細觀察並可發現其中對於微型城市的想像:堅固的不鏽鋼條柔軟地彎曲成電塔、人行座椅、行道樹、卡車和城市中的房子,也勾勒出每個人心中對於城市的想像。
任大賢試圖從視覺記憶的印象中重新創造一個空間的樣貌,他將日常生活中所接觸的視覺經驗,經由線條創作重新表達實體物件在結構的樣貌,讓視覺經驗有了全新的體驗。剛硬的不鏽剛柔軟的勾勒,素描出藝術家心中的想像力的構圖。
來自香港的rarehouse位於東區的巷弄,提供低調舒適的購物空間,追求服裝工藝的細節,精心挑選出不一樣風格展現神祕的黑暗美學,匯結不同領域設計作品,讓你在繁忙城市一隅還可以細細品味服裝的較技。

Budding artist Jen Ta-Hsien adopts the linearity of stainless steel to depict both emptiness and fullness. The suspended sphere symbolizes the hope and vitality of the city. A careful examination reveals some miniaturized urban elements: sturdy wires bending gently to form a utility pole, benches and trees on the side of the roads, trucks and urban houses… all of which illustrate our notions of the city.
The artist attempts to recreate a space based on his visual memories. He renders his visual experience of everyday life into linear, tangible objects, which lend themselves new expressions and create an entirely new experience. Here, the rigid stainless steel takes on a soft stroke that sketches out the artist's imagination.
The Hong Kong-based Rarehouse sits in the alleys of the Taipei East Area. The shop provides a quiet and cozy shopping environment without compromising its exquisite details of dexterity. The shop offers a selection of dark aesthetics with a unique touch of mystery and sells designer clothing of various styles. Customers can come to this small corner in the frenzied city and admire the craftsmanship of the products.