藝術家

蔡筱淇、吉川公野


Tsai Hsiao-Chi and Yoshikawa Kimiya

國籍

臺灣 / 日本


Taiwan / Japan

作品

光纖繁殖


Light Arrangement No.1

媒材

混合媒材、壓克力、放大鏡、鐵、燈泡


Perspex, magnifying glass,fiberglass, metal, and lightbulbs
展點

H PARK II

展點地址

光復南路306號1樓


1F, Ln. 306, Guangfu S. Rd.

開放時間

平日10:00-20:00
週三10:00-17:00
簡介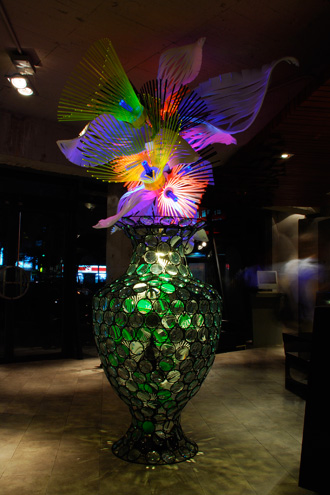 ※照片提供者為:吉川公野Yoshikawa Kimiya
放大鏡透出花瓶內部不同造型的色彩及圖騰,透過光線的折射和人群走動的光影變化,使作品創造出多變的圖騰和生動的華麗。
蔡筱淇和吉川公野以古代中國大戶擺設巨大圖騰的艷麗花瓶來裝飾客廳的概念為發想,使用大量的放大鏡形塑成傳統古董花瓶的形體,花瓶上方插著以現代塑膠材質演生出的抽象植物,利用現代材質與解讀,創造出色彩鮮明的抽象立體花朵,整體造型高雅而奔放。
H PARK hair dressing是對歷史文化有熱忱與使命感,對台灣流行產業有獨特想法的一群人,希望滿足消費大眾對於美學的渴望,並提供更多元化的服務,讓更多消費大眾能提昇自我的美學素養。
The magnifier highlights the different colors and patterns at the inner core of the vase. Changes of light and shadows resulted from refractions and crowd movement has enlivened the immovable piece of artwork to create mercurial patterns and lively imagination.
Tsai and Yoshikawa draw inspiration from the flamboyant giant vase that was once a living room ornament in ancient China. They use a magnifier to recreate the shape of an ancient vase and top it off with some abstract plant-like elements made of plastic to create colorful three-dimensional flowers in abstract shapes. The result is an object of elegance and exuberance.
At night, the magnifier reflects the light onto its surroundings creating an impressive visual impact. Walking into H-PARK's spacious hall in simple colors, one can feel the effect of Light Arrangement No.1 that has generated splendid surprises in a creative space that combines people, hairstyle and fashion.
H-PARK hair dressing is the brainchild of a group of people driven by a sense of passion and mission to pass on history and fashion, and unique perspectives on the fashion industry in Taiwan. H-PARK offers a diverse range of services to satisfy people's yearning for aesthetics and provides a means for them to further their aesthetic cultivation.