藝術家

陳萬仁


Chen Wan-Jen

作品

媒材

單頻道錄像裝置,5分55秒


single-channel video, 5'55"

展點

松山菸廠文化園區 古蹟長廊


Songshan Cultural & Creative Park

展點地址

光復南路133號


No.133, Guangfu S. Rd.

開放時間

10:00-18:00
簡介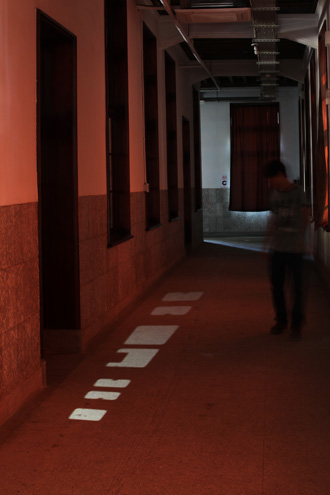 「忘形的光,落下成為那低頭垂憐的影,儘管他們總是形影不離。時間帶走了旅人,悄悄的,我們好像在夢裡飛了起來…」
陳萬仁嘗試詮釋某個時刻某種普遍的經驗,他的創作影像簡約卻饒富詩意,並充滿對於生活觀察的幽默與想像。作品往往突顯出日常性的流動狀態,將生活中經常被忽略,甚至被視為理所當然的事態取樣出來,再以數位工具進行改造,讓那或陌生、或熟悉的游離感,自影像內浮現讓人深植且震撼。
松山菸廠文化園區佔地遼闊,其中超過七十年歷史的菸廠辦公廳、製菸工廠、鍋爐間、倉庫已被台北市政府列為市定古蹟,未來也將會繼華山之後成為台北都市最集中的藝文創意發展總部。
Carried away, light falls
Becoming that bowed shadow although they're never apart
Time claims the traveler
Quietly we seem to fly in a dream
Chen Wan-Jen tries to interpret shared experiences at a particular point in time. His works are simple yet poetic. They reflect a sense of everyday humor and imagination, and often highlight the fluidity that occurs daily. He singles out things or events that have become commonplace, or are even being taken for granted, and with the help of digital technology remodels the subjects to highlight sense of both estrangement and familiarity.
"Displacing" is inspired by travelers' experiences. Images resemble views through the windows of a train. The projected light seems to reflect the scenery and buildings on the outside, as well as some snapshots of wild imagination.
The site of the exhibition, the Songshan Tobacco Plant, is a vast area of land. The Taipei Municipal Government has officially listed it as a historic relic, its general office, factory, boiler room, and warehouse all boasting over seven decades of history.