隱身於東區的地下空間,小小的入口,不經意就被人潮吞噬略過,但要是你發現了它,鼓起勇氣往下探尋,你會看到一個不一樣的小世界。
我們都需要一個溫暖而安心的小世界,舒緩緊繃的自我,找尋最舒適的狀態,找尋一種歸屬感。運用獨特的挑高地下空間,藝術家們以微型空間創造做為都市設計的手段,製作了一個可移動、可組合、可拆卸的微型建築物,可以自由的進入,在這個空間之中,或坐或臥或趴或躺,深深的呼吸,與空間一同沉浸在平靜而安穩的狀態之中。
請以放鬆的姿態進入這建築物之中,讓我們彼此的目光在放鬆的狀態自然交會,仔細地去傾聽彼此的對話。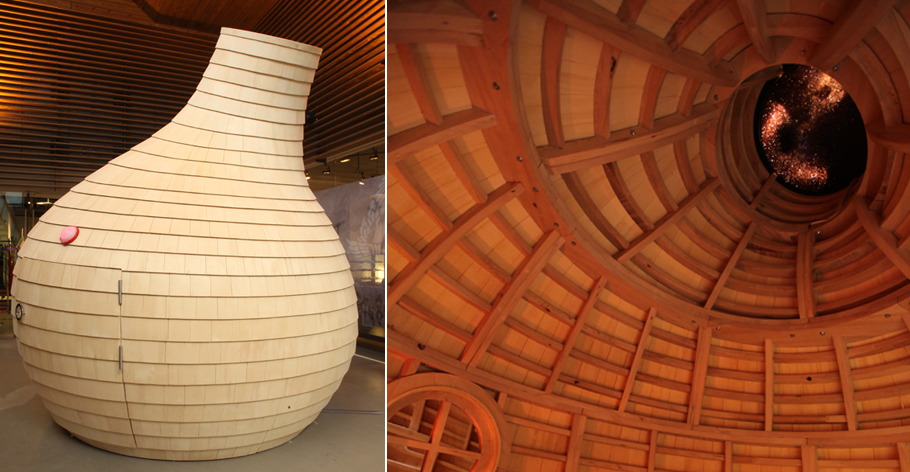 This works is hidden in an underground space in eastern Taipei, but the entrance is small and often unwittingly swallowed up by crowds of people and miss. However, if you do find it, pluck up the courage to venture inside and you will discover a completely different world.
We all need a safe, warm place that is our own, somewhere we can go unwind and just relax, a place where we feel that all important sense of belonging. Using the distinctive high-ceiling of this underground space, Yu-Chih Hsiao creates a miniature building reminiscent or urban design that can be moved, assembled, and disassembled. Visitors can freely enter this space and sit, or lie down. Take a deep breath and together with the space be consumed by silence and a sense of peacefulness.
Visitors should enter he building in a relaxed frame of mind, so that our eyes meet naturally as we unwind and we carefully listen to what each other has to say .